Empathy across Design and Communication
Empathy is putting yourself in someone else shoes and considering them to the degree of asking what will I do if I were in this condition.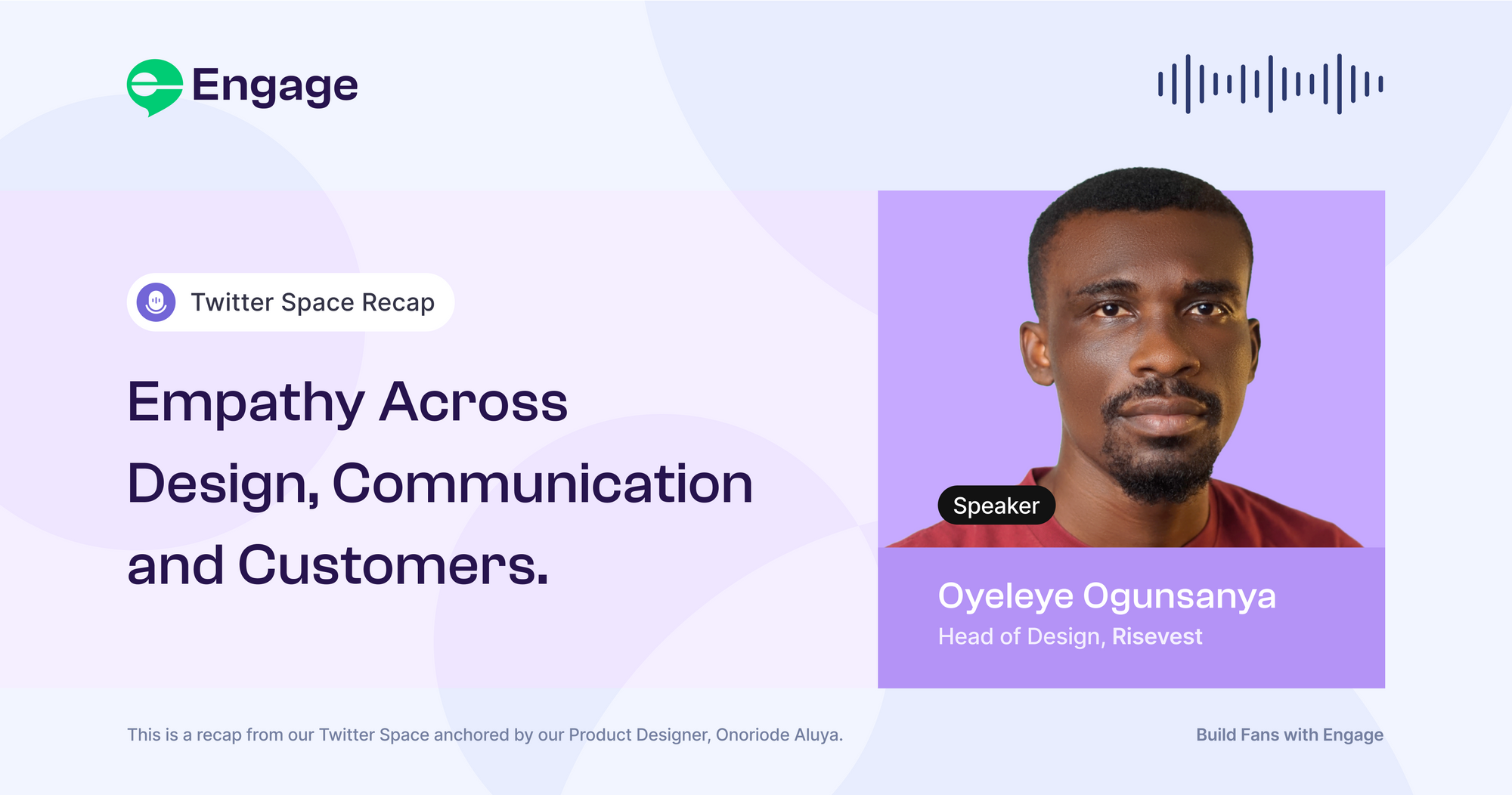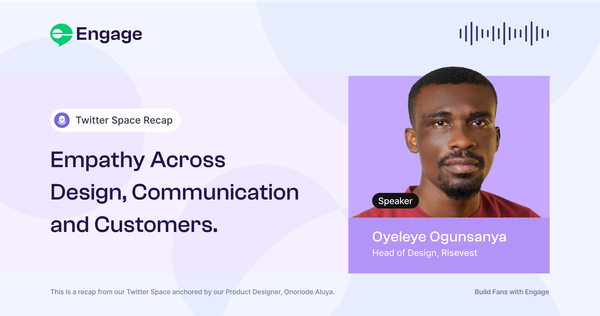 Hey, Fans!
We had a fantastic Twitter space conversation last week with Leye (Head designer - Risevest) anchored by our Product Designer - Onoride and received feedback from our community. Those who might have missed can read the top contributions here.
To begin the conversation, Leye gave us a descriptive definition of Sympathy and Empathy. He started by saying that in sympathy, one does not experience the pains of others. They express the feeling of a particular emotion (sorry, regret) towards/for them. By showing empathy, one experiences the pain of others and does not just express emotions toward them.
He continued that with empathy, the individual does not stop at experiencing these emotions of whom you are being empathetic. They also take actions or inactions from the perspective of these experiences.
"Empathy is putting yourself in someone else shoes and considering them to the degree of asking what will I do if I were in this condition."
A brand can show that they are empathetic in dealing with customers by creating a feedback communication loop that assures customers that they are aware of its actions. A show of empathy is communication. Being in a communication loop helps a user know that the business has them at the forefront of their dealings and is available for support.
Product designers can be empathetic in their design thinking. The focus of a design is to speak the "language of the audience" in the design process. It should speak to a need of the audience. A great way is to consider the end users of a product irrespective of the industry standard and design principles. A product should be content-specific for the audience. According to him, the users come first!
Question: What is good design? One that follows design principles or a design that aligns with the business goals.
Leye answered by saying that a good design is a design that does not focus solely on the user but also translates the business needs and goals to the product. A good designer should also answer these questions;
What business decision influences the design
What business considerations should be seen in the designs
What are the OKRs of the business?
What is the business mission and is this encapsulated in the design?
A designer should be able to show this breadth of understanding when designing a product. Alongside showing empathy towards the user, a designer should be able to translate the business needs of the product.
A good design should be able to make sense to the target market it is being designed for. Every designer's goal should be to produce a design that intersects the business and the user.
Question: How can designers merge design and business together to be able to communicate and make the product more empathetic?
To this question, Leye stressed that two ways a designer can do this are by reading and gaining hands-on experience.
By reading, a designer gains a niche understanding and domain knowledge of the product designed. By reading a designer learns to communicate intelligently, convincingly, and coherently how a design process can impact business goals.
Another way to marry design and business goals and decisions is by gaining hands-on experience. A designer should attend business meetings and read quarterly reports to get clear, fresh insights to create designs that capture market advantage and market segments.
This will translate to trust between businesses stakeholder and designers. The business team believes the designer understands business goals and can communicate with them to produce a design that aligns with its goal. All-in-all, this creates a frictionless design process for the company.
Question: How can a company understand its target audience? Is it possible for a brand to generalize its target audience without sabotaging its communications?
Leye stated that a business can better understand its target audience by researching and creating content specific to them. Feedback from such channels can help a brand better understand its target audience's needs and focus more on satisfying them.
Leye also mentioned that consistency across brand communication does not come easy. There are tendencies to want to expand communication to markets outside core target audiences. This could cause a brand to lose its tone.
He continued that a business should never joke with its target audience. Target audiences are keys to unlocking growth and knowing where to find them (channels and communication) is paramount to success.
Question: Thoughts on companies following trends - Do they risk losing their brand voice or miscommunication with their target audience when they hop on trends?
Leye acknowledged that this is tricky as brands engage in trend hopping. Trend hopping has been used by various brands to gain brand visibility. In some instances, it works. There are scenarios where it does not.
So how to engage a trend?
Trend hopping should be done on an unofficial platform, and engagement can be gauged. An instance of such a platform is Twitter. On Twitter, people are in direct contact with current happenings allowing them to relate directly to trends or any trend you hop on.
In an official recurrent medium like e-mail or in-app notification, users are used to your brand tone and may not have seen the current trends. You risk miscommunication if you jump on trends on these mediums.
Secondly, staying consistent with a brand voice is one way a brand can build trust with customers. When a company jumps on trends on official communication channels, it breaks this trust.
Trend hopping is not entirely wrong. It should be done on platforms that allow the free flow of communication between a brand and its customers. Channels used for future communication routes (e.g - e-mail) should stay consistent in their communication and not jump on trends. An exception is if the trend is already in sync with the brand voice.
Question: What books do you recommend people read?
These are the top two books Leye recommended:
100 Things Every Designer Should Know About People - Susan Weinschenk
Purple Cow - Seth Godwin
Gleaning on the insights shared during this session, companies can be empathetic to customers by creating communication loops with a customer through every stage in their journey. Using communication tools like Engage helps brands send the right message to the right customer by leaning on data and insights from the platform.