Click To Open Rate vs Click Through Rate: How to Track the Results of Your Email Marketing Campaigns
Most marketers have greatly measured their email marketing performance against two metrics: the click-to-open rate and click-through rate. How do you use each metric to improve your email tracking efforts?
Your email marketing campaigns won't mean anything if you don't track the results of your marketing efforts. When tracking email marketing performance, click to open rate vs. click-through rate are the reigning metrics. However, many businesses and marketers are yet to understand how these two metrics differ and how they can improve their tracking efforts.
If you're on this boat, keep reading. We've written this guide to give you a better idea of what click to open rate is, the ways you can leverage the click-through rate and click to open rate. At the end of this article, you'll be able to determine which of these metrics will positively influence your tracking efforts.
Table of Contents
What is Click-to-Open Rate?
The Click-to-Open rate indicates the percentage of recipients that clicked on your call-to-action after opening your email. Another way you can understand the metric is by examining all your recipients; what percentage found your emails valuable enough to click on?
Click-to-Open Rate = (Unique Clicks/Unique Opens)  X 100.

According to campaign monitor, a good click to open rate is between 20-30% depending on your niche and audience. For example, if you send an email to 500 subscribers and your email receives 200 clicks and 250 opens, then your Click-to-Open rate is 80%.  If your email can generate a high CTOR, you're connecting with your customers on a deeper level.
What is the Email Click Through Rate?
The email click-through rate is the percentage of recipients that clicked on your email link.

Click-Through Rate = (Total Number of Clicks/Total Number of Delivered Emails) X 100.

For example, if you send an email to 1000 subscribers and find out that 100 people clicked on the link in your email, your CTR is 10%.
Click-to-Open Rate and click-through rates are important metrics to track in your email marketing campaign. However, the line between a CTOR and CTR could get quite blurry. An email could generate a poor click-through Rate and yet a tremendous Click-to-open rate.
So, it would help if you established clarity on what each of these metrics represents and how they contribute to your company's bottom line.
What is the Difference Between Click-to-Open Rate and Click Through Rate?
The Difference between CTR and CTOR may be slightly different, but it's essential. The CTR acknowledges the inbox actions, while the CTOR includes the activities of those who have opened the email. In summary, it measures the performance of your email content.
How to Improve Your Click-to-Open Rate
There will always be room to improve your CTOR; you need to apply the proper steps. Here are some ways you can improve your CTOR:
1. Use clear, bold Call To Action buttons
It is one thing to create a compelling subject line, email copy, but if you don't leave a call-to-action, your customers wouldn't know the action you want them to take. A clear CTA would easily capture the attention of your audience. When using CTAs in your emails, you can use a text-based one, but studies have shown that buttons can generate higher click-through rates.
For a good reason. Button-based CTAs are more visible and hard to miss. For example, Slack shows a great example of using a bold CTA button in your email. The company also does well to highlight its CTA button in its brand color. Here are some ways you can leverage CTA buttons:
Place your CTA button after presenting your offer, not before.
Communicate in one to three words for brevity.
Use action-based words. For example, "learn", "start" and "search".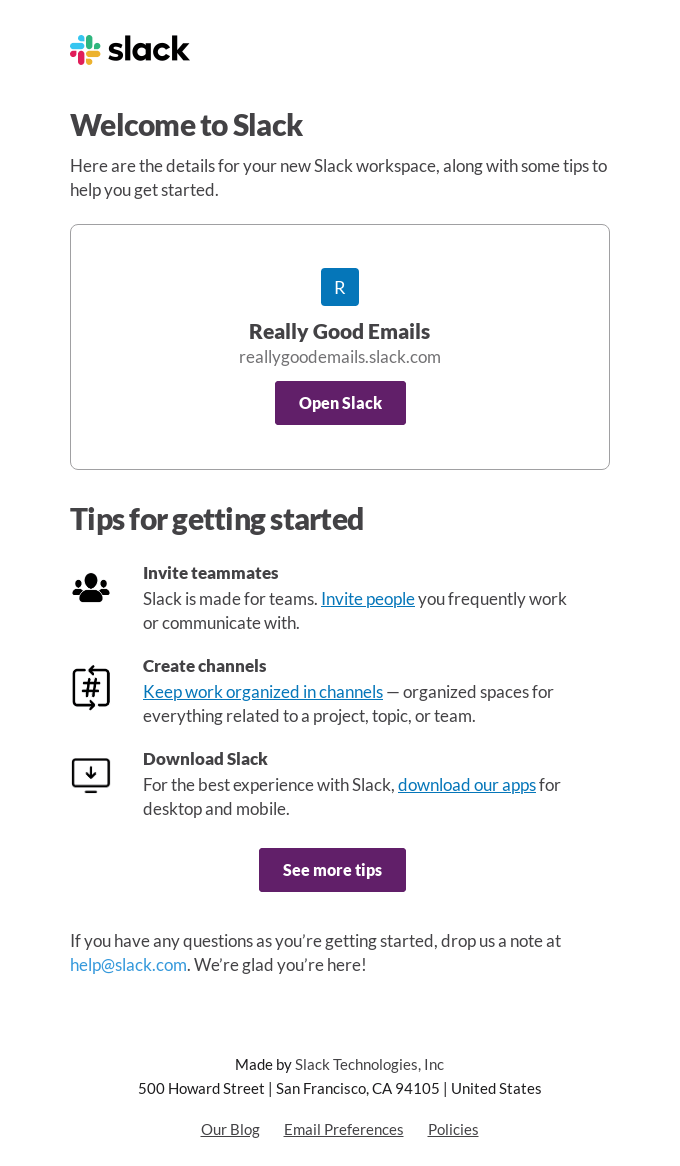 CTAs are a total game-changer in your email marketing efforts. You need to apply them correctly for the best results.
2. Use only one CTA
When you are presented with more offers than you can process, you may have difficulty choosing because you are faced with too many options. Imagine your customers in this scenario; more than one CTAs could get them confused.
As a result, they may end up not taking the action that you'd want them to take. Youtube shows a great example of using only one CTA.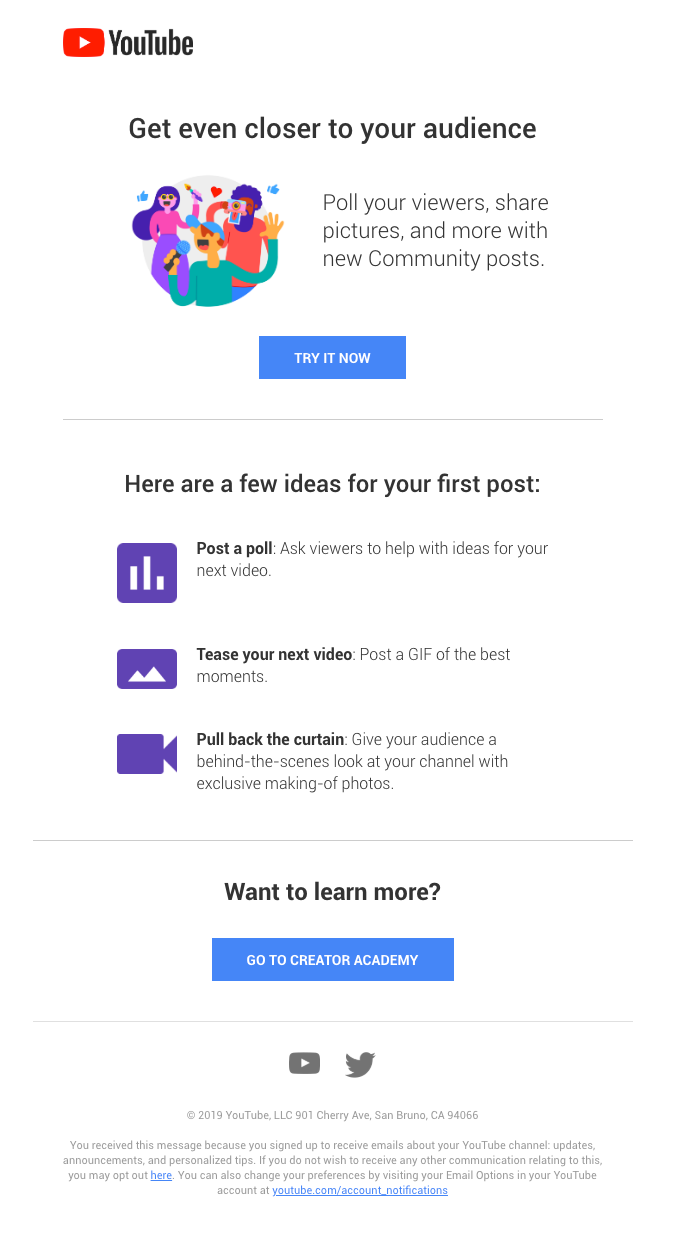 When you give your recipients only one action to take, you may experience an increased CTOR. For this reason, consider testing a single CTA. A/B test your emails to figure out what works for you. If one CTA doesn't work, adjust as necessary.
3. Re-evaluate your offers
If your offers don't align with your customer's interest, it may affect your CTOR. For example, subscribers may open your email, but none of your links may appeal to them as they scroll through.
Here are some ways you can address this issue:
Segment your email list: split your contact list according to your customer's preferences and buying behavior. This will ensure that you send messages that your customers would be interested in. Be sure to separate the emails you send to warm leads from cold ones. And a prospect from a customer.
Leverage NPS survey to gain customer data: most times, you may not know what your customers would be interested in. You can use surveys to get a peek into your customers' thoughts and preferences. You can also include link triggers that can segment your customers based on their answers.
4. Incorporate personalization in your emails
Including a simple thing such as your customer's name can undoubtedly lead to increased clicks. A study by campaign monitor reported that emails with personalized subject lines have a 26% percent improved opening rate.
Take advantage of your customer data such as completed an order, abandoned cart, add product to cart, most visited pages, etc., to create an email specific to your customer's buying behavior and preferences.
Personalization is essential to improve your click to open rate because it establishes trust and integrity with your audience. If your customers trust you, they'll be willing to dedicate more time to consume your content.
5. Track your results
Analytics is an essential part of creating email marketing campaigns that generate positive results. If you don't identify what works, you'll never be able to improve the performance of your email marketing efforts. The CTOR is an excellent indicator of how valuable /relevant your email is to your recipients.
But the only way to honestly know is by tracking the results of your email marketing efforts. If your email generates high open rates but low CTOR rates, it indicates that your subject line was compelling, but your email copy still needs to be improved to make it more effective.
If you realize that your click-to-open rate is low, please tweak your email copy. On the other hand, if your open rates are very low but your CTOR is higher, your customers find your copy valuable. So, you must pay close attention to your email analytics, A/B subject lines, CTAs, and email copy to identify what works best.
6. Make your copy easy to scan
There's a significant amount of information on the internet today that people quickly spend less time-consuming content. A study found that global attention spans are declining due to the amount of data on the internet. As a result, it has become harder to capture people's attention, and even worse, drive users to focus on a brand or product.
To improve your click-to-open rate, you need to make your email copy scannable. Don't merge texts and sections. Instead, break up your email copy into bite-sized chunks. Use bullet points to highlight key points and ensure each section is structured in the correct order. Arrange images in an orderly fashion so your recipients can quickly scan them.
Here's an example from Glossier, they do well to showcase items they want to promote in an organized structure. The last thing you want is your email to generate a poor click-to-open rate because of a disorganized email copy. Even if your subject line is compelling enough to get people to open your email, your recipients won't hesitate to bounce if your copy is disorganized and hard to read.

7. High-quality images
A low-quality image is less appealing and may not spark the right emotion in your recipients. Images are capable of evoking emotion in readers, from laughter to desire or even anger. You need to ensure that you use high-quality images of the right size not to distort your copy.
Outer outdoor furnishings show a great example of using high-quality images in your email copy. Avoid using images that are blurry or too big. You don't want to put your recipient in the wrong mood when they are reading your email.
8. Design your link layout in a structured way
The way your links are structured and designed in your email can make a big difference in your click-to-open rate and user experience. From your internal to external links, arrange them in logical sections that don't interfere with the flow of your email copy. This way, your recipients would easily click your links and perform the desired action.
Here are some tips you can implement:
Highlight your link in a clear, bold color (preferably your brand color)
Ensure your links lead straight to direct actions.
Ensure your links are clear and concise.
Ways to Improve Your Click Through Rate
Even though your email click-through rate is performing well, there will always be room for improvement. The truth is that settling on an average CTR can be challenging. What works with your audience today may not work another time.
Here are five ways you can improve your click-through rate
1. Ensure your user opts-in
The first step is to get your audience to give you their email addresses voluntarily. Avoid buying emails if you think you don't have enough contacts on your list. Sending emails to communications that are not familiar with your brand could tarnish your brand image.
The contact may never open your emails. Even if they do, they may mark it as spam. This action should affect the emails you send in the future and even jeopardize your sender's reputation. Instead, use an appropriate opt-in form to attract an audience interested in what you have to offer.
2. Ensure your timing is right
Timing is a crucial factor in getting your audience to click on your emails. If you send your emails when your audience is too busy or engaged, they may never open your emails. For this reason, you need to understand your audience, find out what their daily schedule is like, and send your emails according to this time.
Also, you need to take note of the frequency in which you send your emails. If you send too many times, you could irritate your recipients, and if you send too few times, they'll quickly forget you.
3. Build trust with your audience
Your sender reputation depends on how your audience engages with your emails. So, if your audience opens and engages with your audience, the better your sender reputation will be. With a good sender reputation, you can quickly build and maintain trust with your audience. Other factors signal trust to your recipients that open your email.
Include a sender photo to prove the email is from a real person.
Include links to your social media page at the bottom of the email. This leaves room for your audience to interact with your brand outside the email landscape.
Avoid using generic names; instead, use an email address with a real person's name.
4. Improve your email content
When your audience opens your email, the nature of your email copy will determine how your recipients will respond to your message. If your copy is well-written, it could make them read your copy and click the CTA button. Here are some tips to make your email copy more effective:
Include numbers. Data in emails usually motivate people to click through and learn more.
Ask your customers for feedback. With an incentive, you can ask your audience to participate in a short survey or poll.
Make your emails interactive. Animated GIFs, videos, and thumbnails can capture people's attention and cause them to engage with your copy.
5. Use the preview text appropriately
The preview text provides a snapshot of your email and is obtained from your email copy. Most people look at the preview text before opening an email. A good email marketing practice is to edit the preview text so that your recipients don't end up with information on how to act online.
Here are ways you can leverage the preview text space:
Include an additional subject line, and
Add a call to action. Your call to action should be in line with the desired action you want your user to take.
Which Email Metric Should You Track CTOR or CTR?
This question can get tricky. Like we mentioned earlier, the line between CTOR and CTR can get quite blurry. But they do have some differences. They analyze and represent two different factors. Click to open rate is arguably the best metric when it comes to measuring an email marketing performance.
It provides insights into how your email copy performs and how your audience views your copy. If your email is never opened, it can get challenging to identify areas you can improve.
Click-through rate, on the other hand, indicates your email's overall performance. Since CTR reveals your deliverability level and subject line performance, it is a good metric for your email marketing campaigns.
As you can see, these metrics can be helpful in your email marketing efforts. With your knowledge about click-through rates and click-to-open rates, you can decide how you plan to use them when tracking the results of your marketing campaigns.
In Conclusion
Email marketing metrics are essential to ensure that you keep track of your email marketing campaigns. The click-through rate and click-to-open rate will continuously be superior metrics in email marketing. Improving your click-to-open rate is a great way to enhance your customer experience, increase interactivity in your emails, and boost customer engagement.
Note that your click-to-open rate helps you to understand how engaging your email copy is to your audience. Remember to A/B test email subject lines, CTAs, and Email Copy.
Finally, all this won't be possible without the right solution to help you track your opens, clicks, click-through-rate and click-to-open rate. Engage does this and more.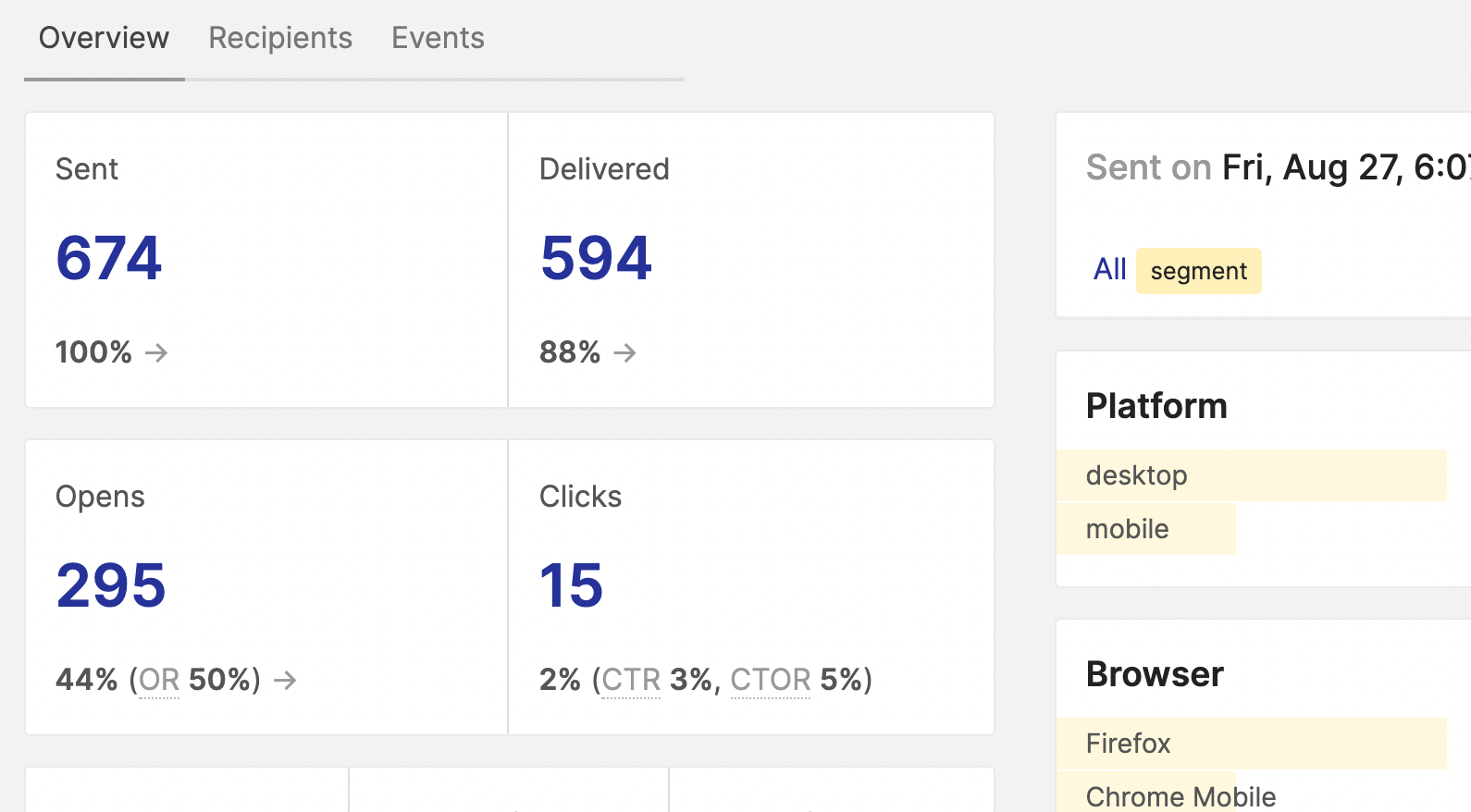 With Engage, you can:
Track how customers interact with your product, app or platform.
Use that data to create unique customer segments.
Send personalized messages via Email, SMS, Push Notifications and Web In-app messages
Create automated messaging workflows to power your email marketing campaigns.