SMS Marketing 101: Introduction to SMS Marketing for Business Owners
SMS marketing has proven to be a powerful marketing channel. This guide will provide insight into SMS marketing best practices, their benefits, and how to automate it for your business.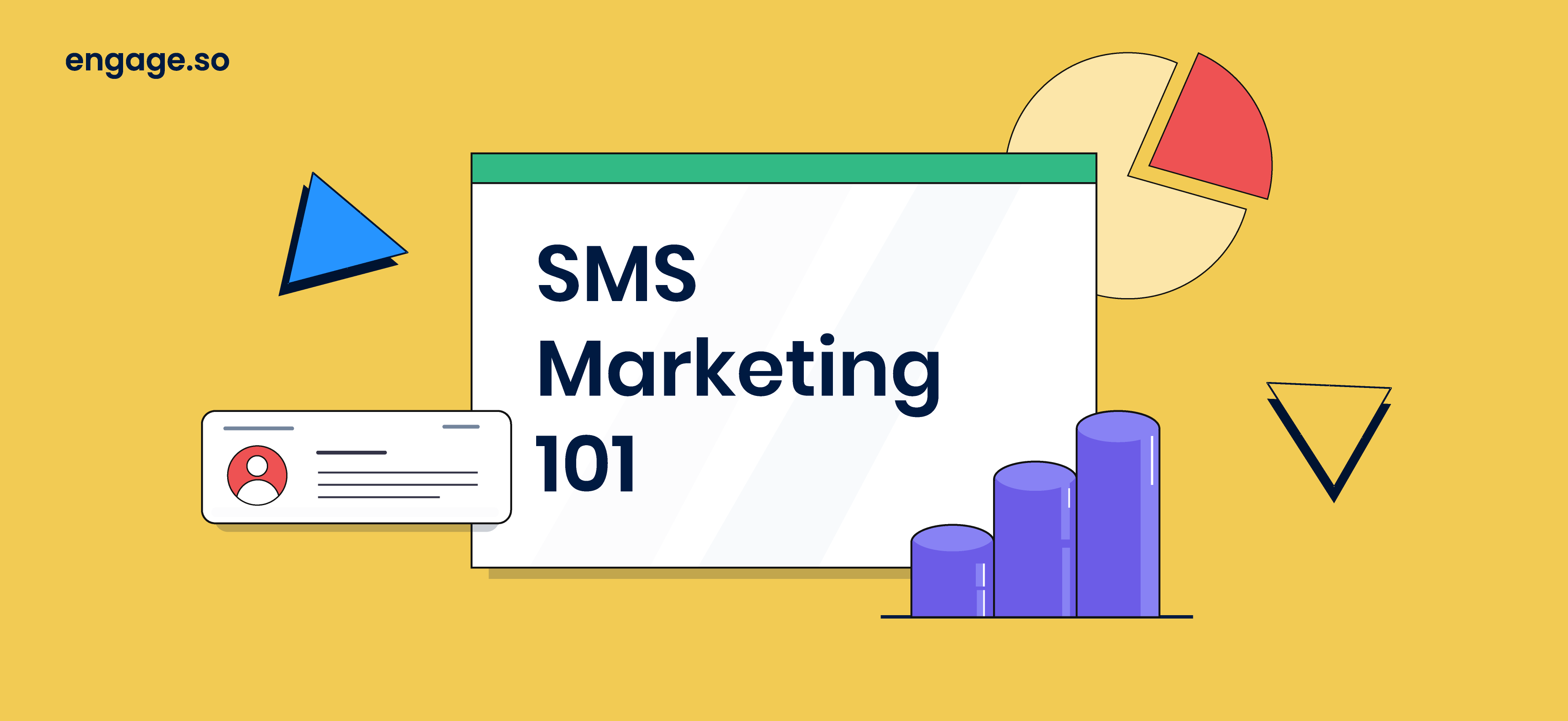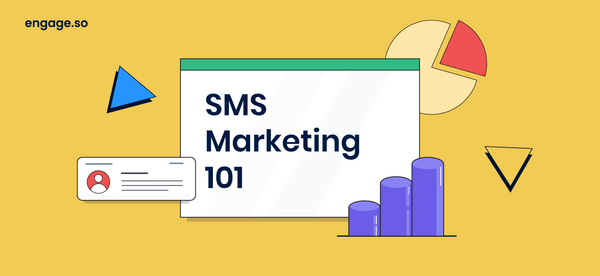 The average person checks their phone 160 times per day, proving SMS marketing as a powerful marketing tool. As a result, marketers and business owners are beginning to adopt SMS marketing as it is more effective, allowing you to reach customers with personalized, targeted messages.
On the other hand, other digital marketing channels have limitations when it comes to communicating with customers. How do you develop an SMS marketing strategy that would create a positive experience with customers? This article highlights the importance of SMS marketing, its best practices, and how you can get started with it.
Before we begin, what is SMS marketing?
Table of Contents
What is SMS Marketing?
SMS marketing describes how businesses send promotional or transactional messages, news, and updates through text messages. The goal is to inform people of your business offering or other special offers that can benefit people.

SMS marketing gives full ownership which means that you ultimately control how your messages are sent, who receives them, and the kind of content you share. So you can decide the impact you want your message to have on your audience.
Why Should You Use SMS Marketing For Your Business?
People can leave their emails unread for days, even phone calls are usually ignored by customers, but text messages are generally given more attention and read more often. SMS marketing provides the means to reach your customers in a way that emails or phone calls wouldn't be able to. It is one type of marketing that you should incorporate into your business for many reasons.
Here are some of the reasons why you should use SMS Marketing:
1. SMS loses the Email marketing loop: While email marketing works to share content, SMS marketing sends short notification messages that your customers can easily access.
2. It is easy to implement: You can easily manage and track the performance of your SMS marketing. When you properly incorporate it in your CRM, you can measure the real-time performance of your SMS marketing campaigns. This access to real-time analytics will provide insight into each step of the conversion process, starting with the initial point of delivery.
Another great thing about SMS marketing is that users would have to give their permission to receive notifications. As a result, you can ensure that your message is delivered to people who would most likely read it.
3. It is highly targeted: SMS marketing exposes you to relevant customer data, including purchase history, buying patterns, preferences, demographics, etc. With this type of customer information, you can deliver relevant offers written explicitly for each customer.
4. Most people use smartphones: Most individuals use a smartphone, with 81% of adults using a smartphone in the United States. SMS marketing is one of the best means to reach these audiences directly. You can send relevant offers, including a link to your website - this helps drive more traffic to your website.
5. Opportunity to build a close relationship with customers: Your customers spend most of their time with their phones. It's the way they reply to business messages, engage with colleagues, friends and family. If you can get your customer to permit you to receive your text messages, you have the opportunity to interact with them and build a close relationship regularly.
However, you should beware of the frequency you use to send text messages. Too many messages in a month, and you stand the risk of annoying your customers. 2-3 times a month is a good starting point.
6. It does better than other marketing channels: SMS marketing has been proven to generate more open rates than other marketing channels. From push notifications to social media platforms, SMS marketing boasts higher engagement rates and ROI. While SMS marketing does excellent as an independent marketing channel, it performs even better when integrated with other marketing channels.
What Are The Uses of SMS Marketing?
Due to varying customer segments and business needs, every business has unique reasons for implementing SMS marketing in its marketing strategy. So you should use SMS marketing in line with your customers' needs and business goals.
Here are some of the most common use cases and how you can apply them in your business.
1. Send urgent updates about events: Many uncertainties can arise during event planning, from confirming the event menu to managing the guest list. Even worse, it could become frustrating when your list contains more guests than you anticipated.
With SMS marketing, you can quickly mass-send event updates to customers, informing them about cancellations, postponements or changes with real-time engagement.
2. Send promotional messages: Have a discount offer that you think your customers won't pass up on? Or maybe your company makes weekend sales? SMS marketing is ideal for communicating these offers, ensuring that your customers don't miss them. It also presents the opportunity to drive people to your website.
3. Send transactional messages: With SMS marketing, you can send your customers links to make purchases on your website. But it doesn't end there. You can include delivery updates to keep them informed at every stage of the delivery process. You can also have customer billing and purchase information.
4. Send appointment reminders: In your business, you may have to deal with missed or delayed appointments with clients, which can be frustrating, especially when it affects your business workflow and you always have to reschedule. With SMS marketing, you can send appointment reminders to your clients, so they don't have to forget their appointment. Instead, they'll be notified right on time and show up at the scheduled time.
5. Send updates about a new product or service: When you launch a new product, it is always exciting to spread excellent news with your customers. Other means of communication such as emails may not be the best way to inform your customers due to its low open rates. With only a short notification text, you can use SMS marketing to tell your customers about your new product or service. Just add a link to your website for increased traffic and engagement.
Benefits of SMS Marketing
SMS marketing provides many benefits to businesses when done right. Here are five great benefits your business can gain from SMS marketing:
1. Increase in customer engagement: Studies have found SMS marketing to generate up to 98% open rates. With good reason - its operation is permission-based, plus it relies on short-form content that is easily consumed. However, a high open rate can be tricky. Customers may open a text message only to get rid of the notification.
So it would be best if you focused on other metrics such as click-through rates and conversion rates. As long as you focus on building a meaningful relationship with your customers, then you can be sure of a better response from them.
2. Improved reach to your customers: Most people communicate via text messages more than any other means of communication, which means that people are usually quick to respond to messages. 90% of people respond within three minutes. You can use the opportunity to send time-sensitive offers to customers so they can see it on time and perform your desired action.
However, it would help if you remembered that people would only click through when they believe your offer is beneficial. So, ensure that you only send relevant and valuable offers to your customers.
3. It can integrate with other channels: While SMS marketing is an independent marketing channel, it can also support social media platforms and email. For example, you can send a text message that contains a link to your social media page inviting customers to participate in a special event or offer. Or you can include an email link to remind your customers of a message that has been sent previously.
4. You can obtain customer data: SMS marketing provides an excellent opportunity to obtain valuable customer data. You can conduct surveys through text messaging. Studies have shown that about 31% of customers respond to surveys through SMS marketing, and This means that you can expect to receive a positive response from your customers.
SMS Marketing Best Practices
If you want SMS marketing to work for your business, you need to apply the best practices that are guaranteed to provide positive results. Here are some of the best SMS marketing practices you can incorporate into your marketing strategy.
1. Customers have given you permission to receive text messages: The last thing you'd want is to send messages to people who don't want them. Before you begin SMS marketing, you need to ensure that you receive permission from your contacts. Besides, most countries require an opt-in before sending any message to people.
2. Frequency: Your customers may permit you to send text messages, but if you end up filling up their inboxes 2 to 3 times per day, you may lose their permission. People are often busy and don't want to be sent messages too often.
So you need to ensure that you send text messages according to your customer's schedule which means that you need to understand what your customers' day-to-day activities look like.
3. Timing: The time you send your text message can make a big difference in whether your customer replies or not. You don't want to end up sending a message to your customer at 2 AM. So, ensure that you plan and schedule your text messages according to your customer's time zones and activities.
4. Include your company's name: Most businesses mistake inserting only shortcodes in their text messages. which is a bad idea because your customers don't know the message is from your company. It'll also make it easy for your message to get buried in the pile of other text messages.
So you need to include your company's name when sending messages so your customers can know the message is from you. A simple way to do this is to insert your brand name at the top of the message, followed by a colon.
5. Include an option to opt-out: Including an opt-out option is an essential step in your SMS marketing strategy. You need to give your customers a way to opt-out if they don't want to receive your text messages anymore.
If you repeatedly send messages to customers who don't like to receive your messages, you could lose them as customers. Ensure you include information that would enable subscribers to opt-out even for transactional and promotional messages.
6. Know your word count: SMS messages have a limited word count of about 160 characters - Which means that you have only little words to communicate with your customers. You need to know the right thing to say at the right time. Don't beat around the bush. Be specific and use link shorteners to reveal the details of your message.
SMS Marketing Strategies
There are different strategies you can try in SMS marketing. Here are some of the best strategies for SMS marketing:
1. Offer coupons and exclusive deals: You can create unique and specific coupon codes so that only your subscribers can access your deals. This offer can drive extra traffic to your website. Plus, you can include a one-click payment option that connects with your customer's payment system.
2. Incorporate drip campaigns: Drip campaigns are another form of marketing automation. The messages are sent based on specific customer data, such as how long an individual has been a customer. You can tailor your messages according to each individual's stage in the customer lifecycle.
With Engage, you can create SMS drip campaigns and power your entire SMS Marketing campaign.
3. Run a sweepstakes contest: You can invite your customers to participate in a contest by sending them a unique keyword. You can inform your customers to text the code to stand a chance of winning your offer.
4. Include graphics in your text messaging: Graphics in your text messaging can help your message stand out and even lead to increased customer engagement. Ensure that you insert an image that is well-designed and visually rich.
Automate SMS Marketing for Your Business
When it comes to text message automation, the process automatically sends messages to a group of individuals or persons with little or no manual intervention. Automation cuts down the extra time and effort required to send text messages to a large audience.
There are so many reasons to incorporate automation in your SMS marketing strategy. For example, you don't need to fetch and transfer customer data manually. You would not only save time, but you'd also be able to focus your attention on other tasks.
Here are some of the reasons to incorporate automation in your SMS marketing strategy:
Hands-free Messaging: with automation, you don't need to remain engaged with your customers constantly. All you need to do is set up your automating text messaging feature with any automation platform and focus on other business activities.
Consistent Returns: automation provides the opportunity to deliver valuable content to your audience consistently. As a result, you can expect your customers to engage more with your brand, hence driving in more returns.
With Engage, you can create automated SMS sequences or workflows to power your SMS marketing campaign.
Getting Started With SMS Marketing
The best way to know if SMS marketing would work for your business is by testing it on your audience. SMS marketing provides an excellent opportunity to build a solid relationship with your customers. However, it would be best if you were strategic about the messages you send, understand your audience's needs and preferences, then tailor your message to suit them.
The more you analyze and collect customer data, the better you'll understand how to strategize your SMS marketing. To better analyze and collect customer data, you need to make sure you are using the right SMS marketing tool.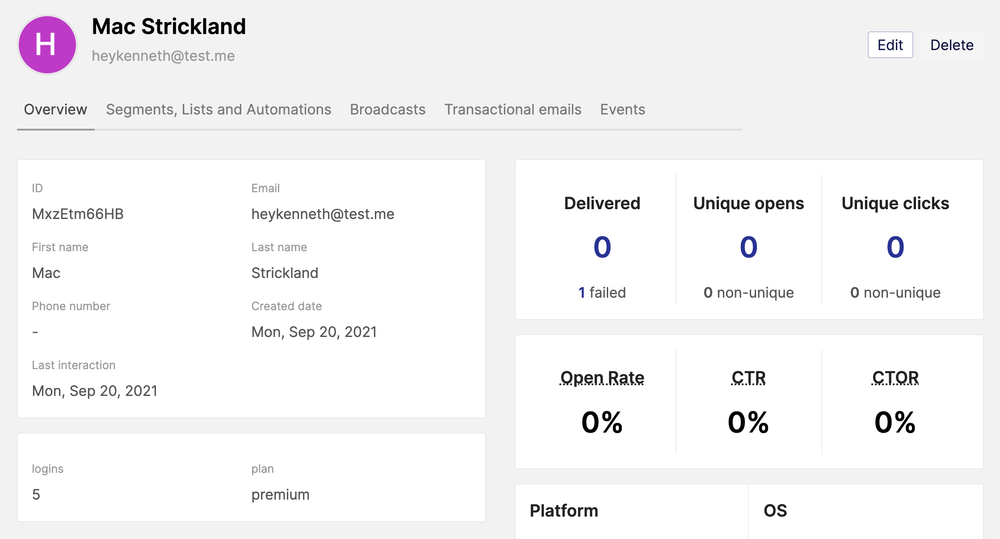 Engage is an Email and SMS marketing automation solution that will help you with this and more:
Track how customers interact with your product,
Create unique customer segments, and
Send personalized messages to your customers via Email, SMS, Push Notification and In-app Messages.
It is totally free to try out. Sign up now.