Enhancing Customer Experience: Inside SquareMe's Success Story with Engage
In this article, I will show how fintech startup SquareMe uses Engage to enhance its customer experience.
On Engage, we work closely with SaaS businesses keen on using the insight from their customer data to improve their customer experience leading to higher revenue.
In this new case study series, I will be speaking to some of our active customers to understand what business goals they have accomplished since they started using our customer engagement platform.
In this article, I spoke with Tolu Olawumi, who leads the marketing team SquareMe, a peer-to-peer payment platform in Nigeria.
Topics we covered:
What Does SquareMe Do?
SquareME is a peer-to-peer payment platform that helps people to send and receive money via their phone numbers.
The good thing is that the person you're sending money to doesn't have to be on SquareMe to receive money.
So long as you have the phone number of the person receiving the money, it is pretty straightforward.
Due to the cash crunch crisis that hit Nigeria early this year, SquareMe created a platform for people to send and request money seamlessly
Once you have a person's phone number, that's all you need.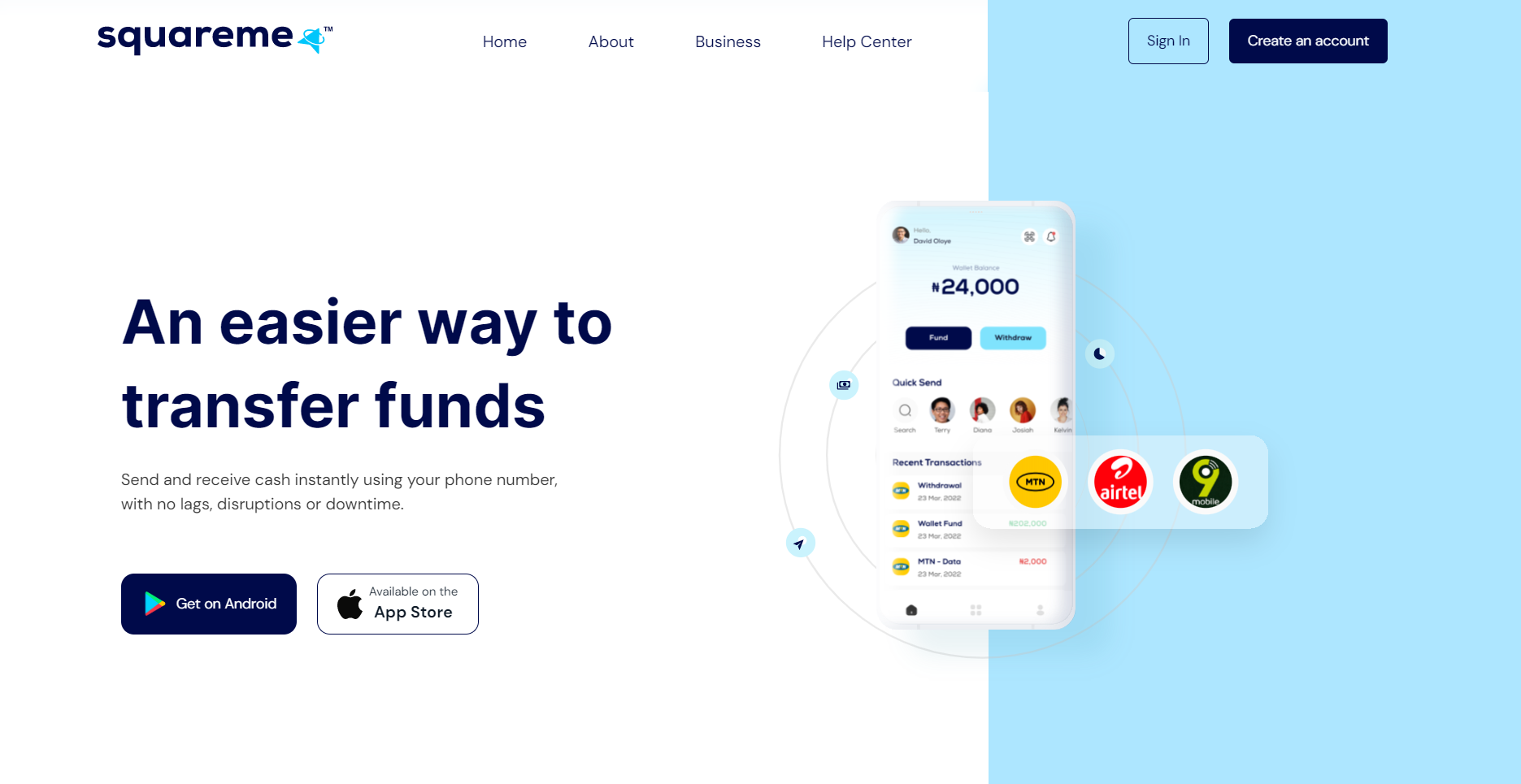 What Led Them To Use Engage?
Since SquareMe is targeting an African audience, Tolu mentioned that when they were looking for the right tool to handle their customer engagement, they were intentional about finding a platform that was easy to use and supported local integrations.
She also mentioned that their CEO spoke to a few other companies in their ecosystem, and some of these companies referred them to Engage because we support local integrations and helped them reach their growth goals.
Another reason they decided to use Engage was the possibility of having an all-in-one customer engagement system where they could send email, SMS, and push notifications to their customers without using multiple marketing tools.
Unlike stand-alone email marketing platforms like Mailchimp and Mailerlite, Engage was the right choice because they could handle all customer engagement from one platform.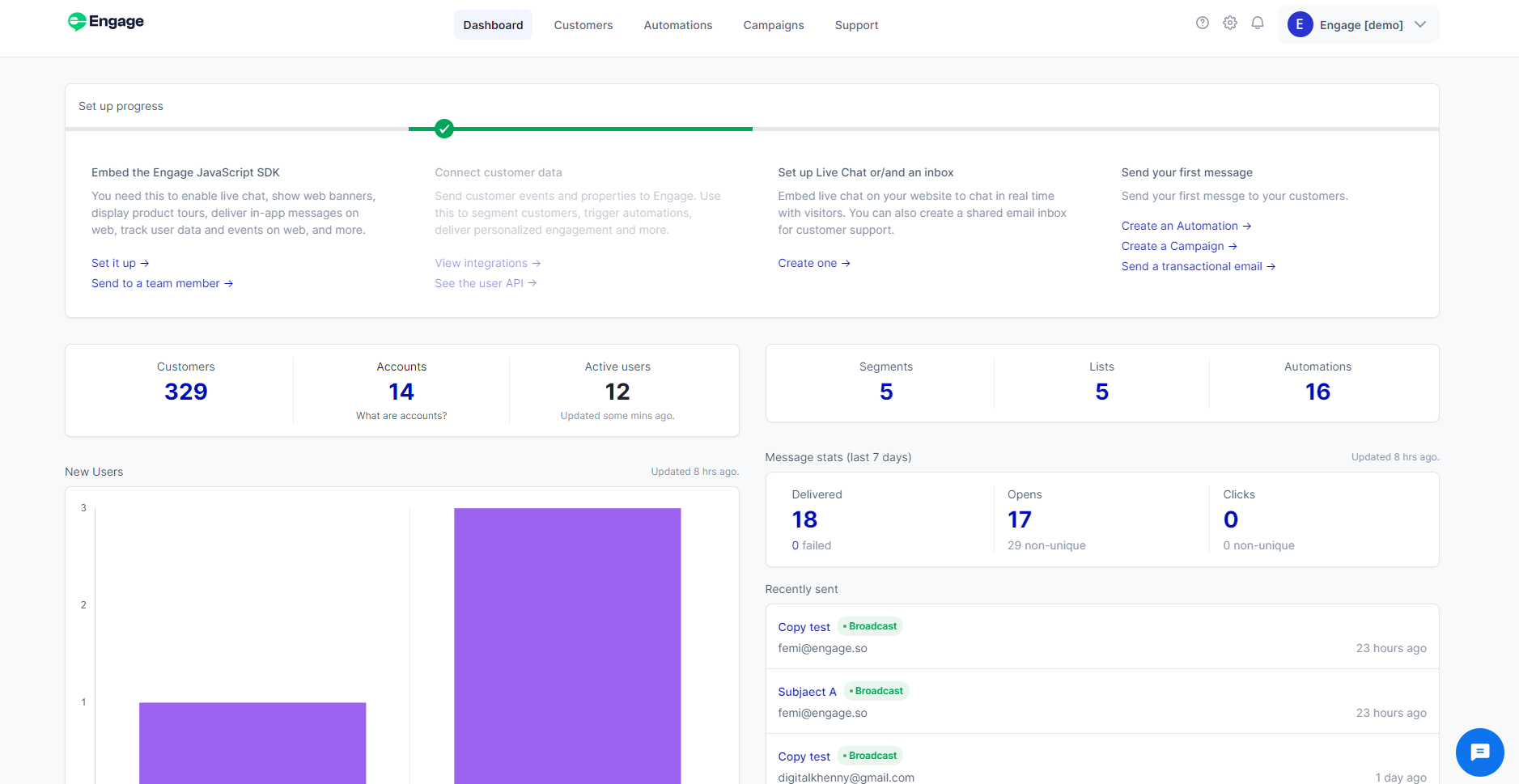 How Did They Integrate Engage To Their Platform?
Tolu mentioned that the process of implementing Engage into their platform was seamless and that their engineers at SquareMe were responsible for handling the integration.
After mapping out their customer journey, she and her marketing team worked closely with their engineers to identify key customer events or actions to track on Engage - like when a user purchases airtime, changes their pin, funds their wallet, etc.
There were times when their engineers had to speak with the support team from Engage to help with the bottlenecks they faced with the integration.
After the integration was complete, Tolu and her team wrote the content that powered their messaging campaigns on Engage.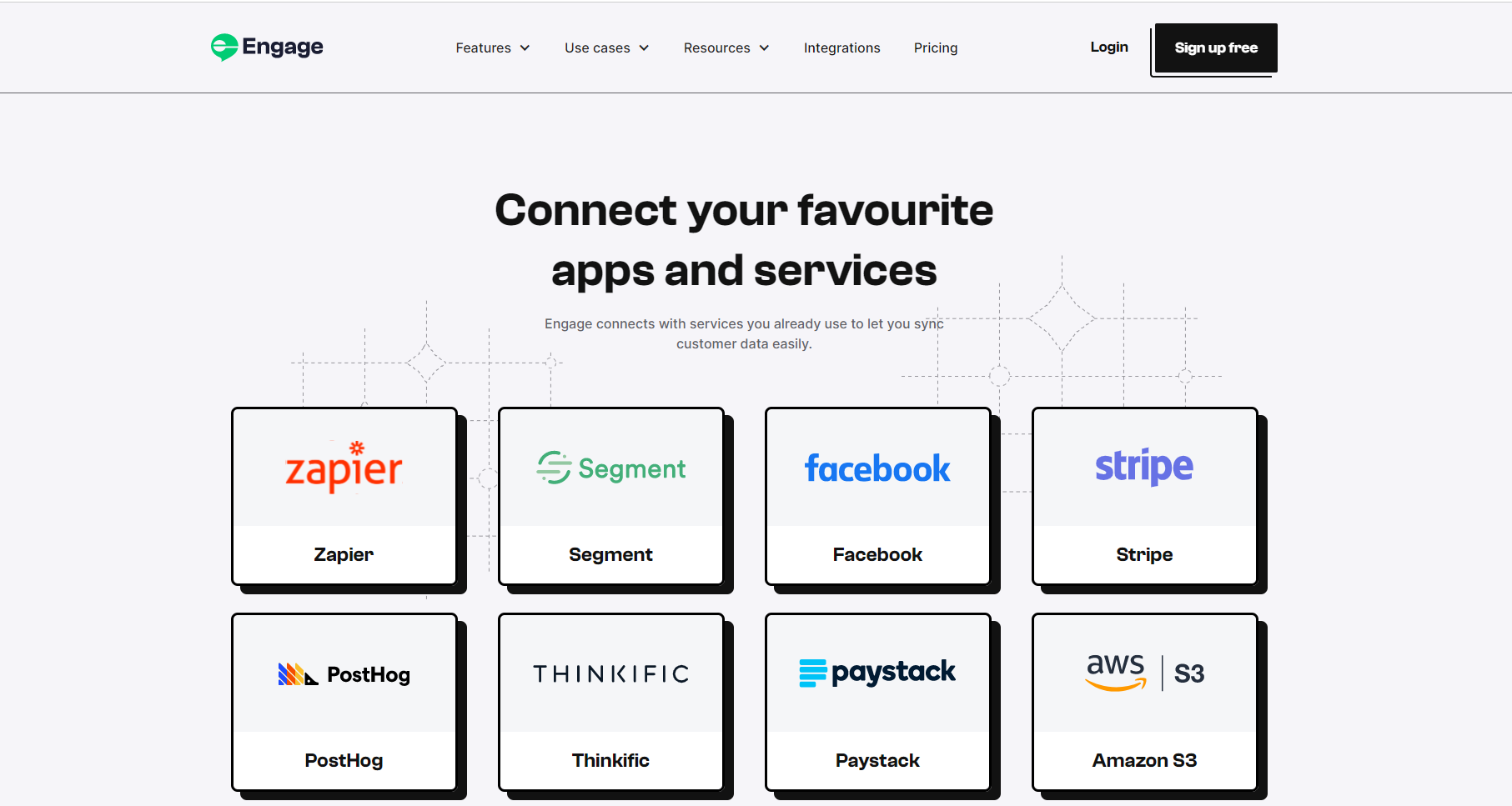 What Feature(s) On Engage Has Helped Them Reach Their Goals?
Tolu mentioned that new users at SquareMe needed to understand how their platform works and that is why they found the automation feature on Engage very useful.
Using the automation feature on Engage, she mentioned that they currently run a welcome series email automation targeting new users when they signup. The user journey email automation went something like this:
After signup, the new user gets a welcome email from the CEO: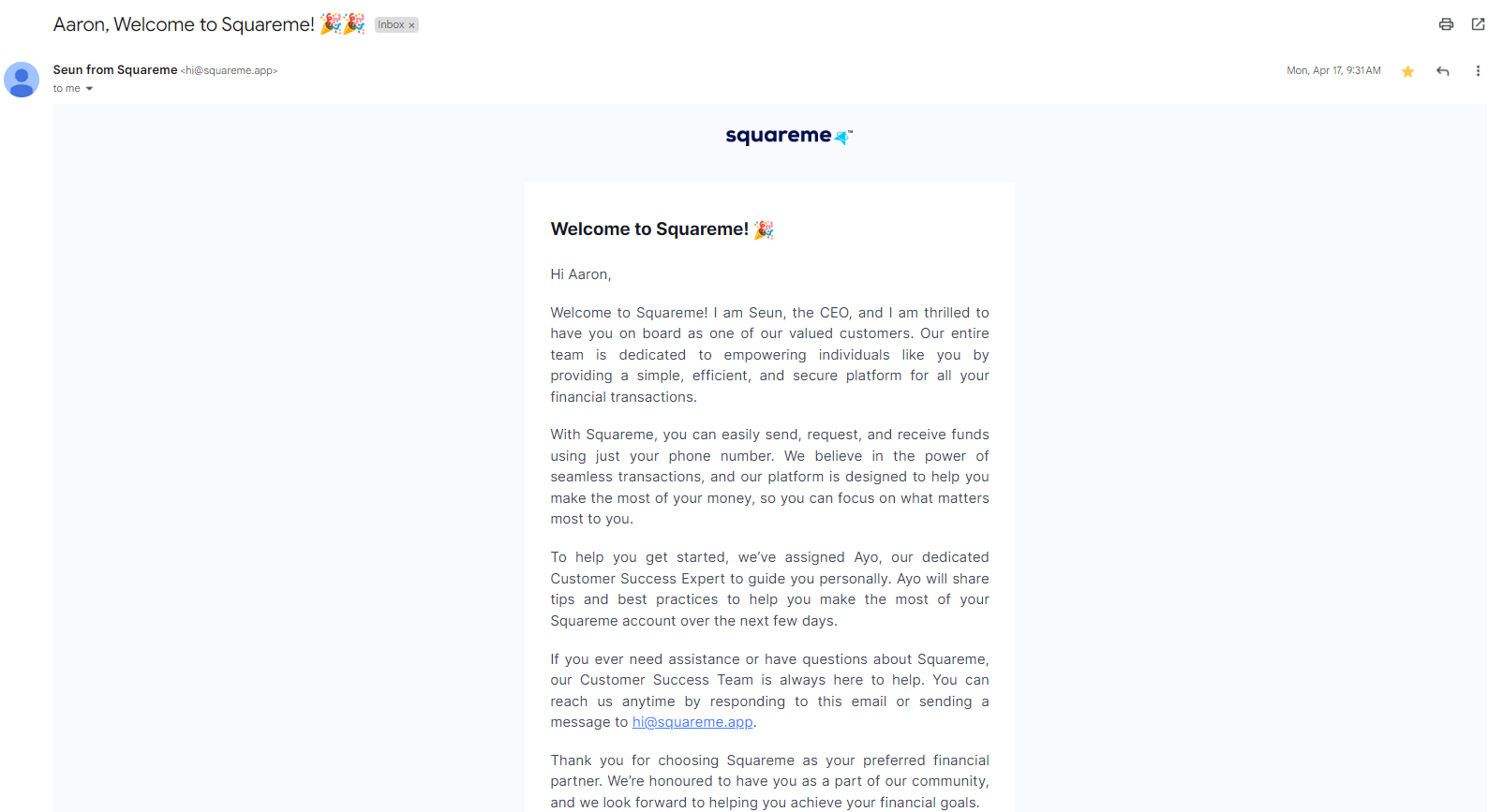 2. If the new user doesn't complete their KYC, they get a reminder email: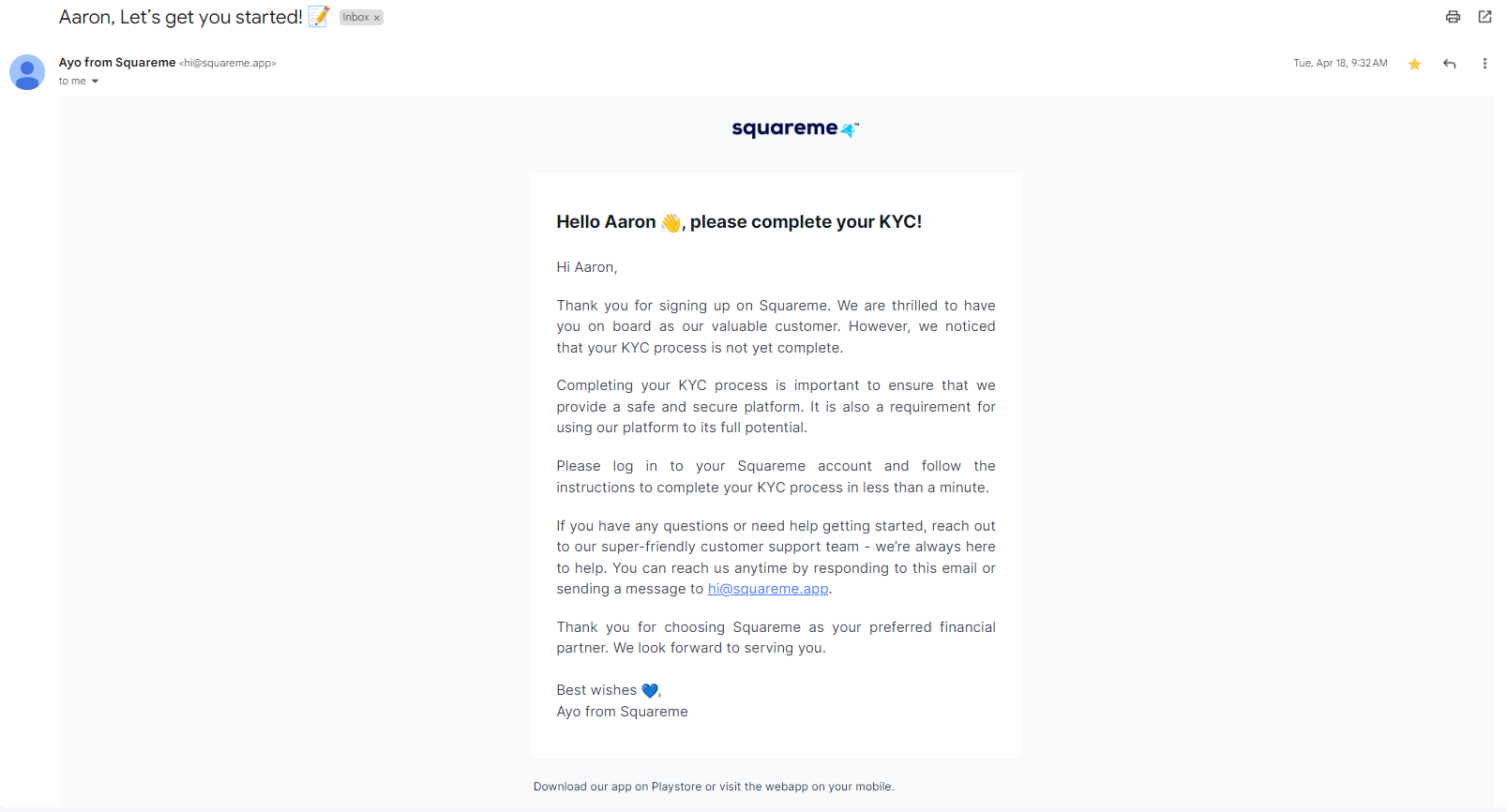 3. If the user doesn't fund their account, they get a reminder to do so, etc.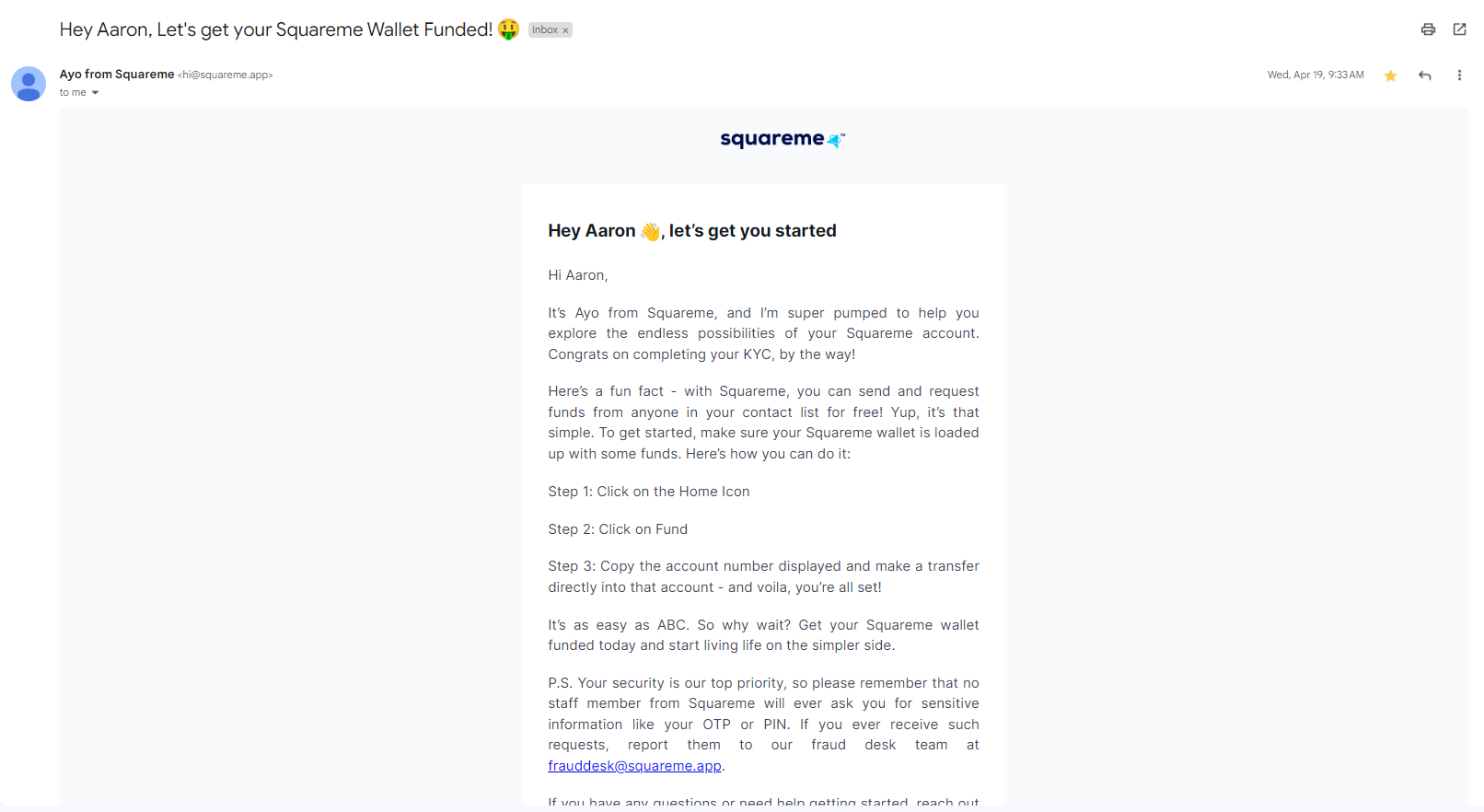 For many SaaS business owners, the major issue many of them face is that people signup to use their product but in many cases, these new users after some time become inactive.
To avoid this, SquareMe is using the automation feature on Engage to launch customer education campaigns, which has helped keep its new users engaged and returning to their app.
An Advice From SquareMe On Why You Should Use Engage
Tolu mentioned that she likes the minimal UI design on the Engage dashboard, and because of that, it makes it easy for marketing teams to quickly get started on Engage.
She also mentioned that because of the 3rd party integrations we support at Engage, any business can easily connect their favorite tools like - AmazonSES, Onesignal, Segments, PostHog, Hollatags, etc.
Another reason why you should use Engage is that we offer dedicated support to each of our customers to provide immediate support to customers who need our help.
Conclusion
At Engage, our mission is to help companies like SquareMe to enhance their customer experience and retention through personalized customer messaging.
We can help you do this for your own business too.